What Everybody Ought to Know About Raising a Puppy
This post was written by a friend of the site, Kimberly LeMaster. She has many years of experience raising and training dogs. She's here to share with us some of the experiences she had being a puppy owner and some tips on how to survive it and thrive.
If you need some help taking your puppy on potty and exercise breaks while you're busy, be sure to check out what dog walking and pet sitting services Saint Louis Dog Walkers can offer you and your pup.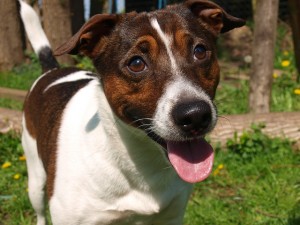 When I picked up my puppy from his breeder, I thought for sure I was completely ready for him. I had planned out his potty schedule, food schedule and even how and what he would learn. I knew at what age he would learn agility, and when he would begin advanced obedience training. What I was not prepared for were the times in which I had run out of things to teach him due to his extremely high intelligence, or what activities I could do to keep him physically fit during deep winter snowstorms. It seemed like all the planning in the world would not prepare me for the devotion I saw in his eyes as he looked up at me. However, if I had not done the extensive planning I had before I picked him up that one fateful day he and I both would be in a world of trouble with unwanted behavioral problems!
Preparations Before Pickup
Once you have found which breeder, rescue or shelter your puppy will come from as well as when they will be ready to go home with you, you will need to start your preparations. Making a grocery list of items that you and your puppy will need to begin raising him right, prevent behavioral problems and help him develop into a true good canine citizen and family member is your first step.
Obviously a collar, harness and leash will be needed. Make notes of the sizes you will need for your puppy. Buy collars and harnesses that are adjustable. Puppies grow incredibly fast, and you may need to make adjustments to the size of your equipment on a weekly basis. Just like the need for an adjustable collar, you may need an adjustable crate! The rule of thumb is to purchase a crate that will be big enough when your puppy grows into an adult, around the age of 2 years. There lies a problem, though, because too much room in a crate for a puppy can lead to potty accidents inside this space which should never see urine or feces! On the market, there are now crates that come with a removable wall. This wall can make your puppy's crate space smaller, and be removed when he grows larger. While these crates make potty training easier, they most certainly are not requirements.
Weeks before I picked up my puppy, his baby blue colored crate sat next to my bed. It had a small bed inside along with 2 chew toys. It was not an adjustable crate, but I felt I did not need one. My puppy is now a 2 year old Australian Shepherd, and to this day his crate never had a potty accident. If you feel that you have the ability to control your puppy's potty habits with a schedule like I did, then an adjustable crate most likely will never be needed. However, if you have a habit of slipping on taking your puppy out to potty as often as he needs, then you may end up with a puppy that never learns to control it's bladder while indoors.
More Preparations
So, you have your leash, collar, harness and crate. What's next? You know your puppy will need toys to play with, but do you know what kind? Avoid soft rubber toys, even for small breeds, as they can quickly and easily be shredded with tiny, sharp puppy teeth. Little bits of these toys can be swallowed leading to a bowel obstruction. Instead, look for quality puppy teething toys, indestructible chew toys like the KONG brand rubber toys, and plush toys. Plush toys should not be given to your puppy without supervision as they are also easily destoyed and eaten. Plush toys with squeakers are quick to become favorites for almost any puppy, and they are useful in getting your puppy to engage in interacting with you. Not only does this help your bond grow, but you can even implement these toys and play time into helping your puppy learn basic manners, such as not to jump up, not to bite or be mouthy, and always be polite to get what he wants.
Toys are fun to shop for, but you also need to put on your constructive thinking cap to look for a high quality, safe and nutritious food that will nourish your puppy's body and help him thrive. A poor quality food from harmful ingredients such as corn, wheat and soy can actually impact your puppy's behavior and growth. Look for grain free foods, either kibble, canned, frozen or raw that are meant for your puppy's size, growth rate and energy level. You really can provide too many nutrients to a puppy harming the growth of his joints and skeletal system, so it is vital that you find a puppy food that fits the needs of your little fur ball. If you are obtaining your puppy from an ethical breeder, they would be an ideal choice to speak with about the right food for your little one.
Treats are a necessity! Your puppy should go through at least 1 or 2 training sessions in your home every day. It can be as simple as teach him to sit or providing a reward for lying quietly during a movie, but he needs treats! Sometimes puppies are perfectly happy receiving his kibble as a treat, but when it comes to developing his obedience skills you will want a higher level reward. Just like with his food, he needs a high quality treat that is either in tiny sized pieces or can be broken up into small pieces. No matter what size your puppy is, a treat that is small and quickly eaten will keep his mind on training instead of working on eating his treat.
Train, Train, Train!
You can obtain the best crate, the best food, the most professional quality grooming equipment that money can buy but the one thing that will make your dog the best dog you've ever had is your ability to train him, bond with him, and make every moment count. Obedience classes are great for both the first time puppy parent and seasoned dog owners. Even professional dog trainers like myself find useful tools, tips, and help in an obedience class. These classes will teach you how to teach your puppy at home. If you are doing something that may be confusing your puppy that you did not even realize you were doing, such as confusing hand signals then you have a trainer right then and there to point it out and help you along the way. This is a valuable tool that goes a long way, no matter how much you already know about training.
Meanwhile, it is up to you to train your puppy at home. My puppy began his potty training on the ride home! His breeder lived about 4.5 hours away from me and we made several stops on the way home to allow my little one to potty. These little rest stops only lasted maybe 10 minutes, and every time he managed to eliminate. He was given positive reinforcement for going potty outside, and he did not have a single accident on the way out, outside of a little car sickness. Your puppy is completely helpless without your guidance, and you are the one who needs to teach him with kindness and respect that eliminating in the proper place is a good thing.
Once you get home with your pooch, potty training begins with a consistent schedule. Your dog's schedule is similar to your own work or schedule, except it is meant to help plan and predict his potty needs! A typical puppy schedule will start first thing in the morning when he is take out of his crate and straight to his place to go potty. After that potty break, he can have a short supervised play break before his breakfast. To help further his crate training, you can give your puppy all of his meals inside his crate. Allow your puppy to rest and relax after eating to allow proper digestion, then about 20 minutes later he should be allowed to potty again. Every time your dog eats or drinks, he should be given the opportunity to potty about 20 minutes later. This is because a puppy's digestive system has not fully developed, and he cannot completely control his bladder or bowels. If not given the ability to potty in the correct place, he will potty wherever he is. It's something he simply cannot physically control, and it should not be held against him or his intelligence.
If your puppy does not potty when you take him out, don't worry. Just give him about 10 minutes in his potty place, and when he does not go bring him back into his crate with a special crate-only chew toy for about 15 minutes. After that time, take him out again for another 10 minutes. Your puppy will also need to potty roughly every 1.5 hours throughout the day, during or after playtime, last thing before bed, before and after training and any time you see him circling with his nose to the ground!
Between his breakfast and lunch time, you can decide on his play and exercise times, training times and over all fun and bonding time. Within a week of using this consistent schedule, you will be able to alter it as you learn the needs of your puppy. Your puppy may need to go potty more often than your created schedule, or even less often. Each puppy is an individual, so learn him well to create a solid working schedule!
Puppy Love
After having my own puppy for 2 years, and as a seasoned dog trainer I have learned more than I ever had training adult dogs. Puppies are truly unique creatures, and just like a human infant they are completely helpless, relying on you for their every need. Are you ready to accept that challenge?