How To Travel With Your Dog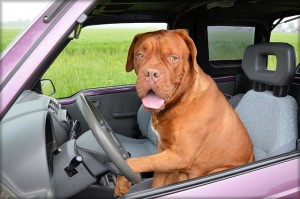 TIPS ON HOW TO TRAVEL WITH YOUR DOG (AIRPLANE/CAR)
So, you are planning a trip or your next vacation and you're thinking it would be nice to have your adorable pet travel with you. Good Idea! However, there are things you need to consider before taking your dog along with you. Because cars and planes are not adequately equipped to cater to the needs of your pet, the responsibility for his care rests squarely on your shoulders.
Traveling with your dog requires a bit of planning and training in order to ensure that both of you have a safe ride that is free of anxiety or discomfort. Apparently, the journey is much easier when you are driving or hiring a cab, but flying on an airplane is a different kettle of fish altogether. Here are some important tips to help make your journey pleasurable.
Of course, if you decide to travel without your pets, consider letting Saint Louis Dog Walkers pet sit while you're gone. Your pet will feel more comfortable in its home environment rather than staying in an unfamiliar kennel. We can provide walks, food, water, and all the love and attention they need while you're away.
Know the Rules
If you're flying, it is important that you inquire from the airline about their regulations on pet travel. Understanding their dos and don'ts will help you decide whether to go ahead with your plan or not. Airlines are concerned about the safety and comfort of every passenger and wouldn't want your pet to disturb on cause others any inconvenience. It is therefore important to ensure that she is kept as quiet and comfortable as possible.
Puppies and smaller dogs may be allowed to travel with you under a seat in the cabin as long as they are older than 8 weeks. Larger and heavier ones will need to stay in the cargo hold. You can keep her in a soft carry-on bag if she's traveling in the cabin. Larger dogs will require a pet carrier that is approved by the airline.
Other regulations such as the type of carrier required and the health details also need to be ascertained.
Prepare Your Dog for the Trip
You have to get your dog well prepared in advance for the trip.
Ensure that your dog is well exercised so that she can burn off excess calories and rest well during the trip. Getting her well exercised is better than giving sedative or other calming medications.
Some training will be necessary in order to prevent anxiety or discomfort
You will need to get your dog accustomed to being in her carrier well ahead of your travel (two weeks should do) so that she can be relaxed during the trip. Also let her get used to being moved around in the carrier by carrying her around in it for a few days.
Don't become emotional if you have to leave her in the cargo hold, be positive and calm so that your dog will know everything is okay.
Let her get used to the noise, busyness and smell of the airport by taking her for a walk around the airport a few times
Whether you are traveling by road or by air, you will need to get a carrier. Keeping her in a carrier while driving, will reduce the potential for fatality in the case of an accident and will also help you concentrate better on your driving. The carrier must be well padded with a newspaper, blanket, or doggy pad and should be large enough for your dog to stand in comfortably.
For air travel, you will need to fit her carrier door with a properly secured portable fan for cooling and two plastic dishes for food and water. Keeping some familiar toys or treats in the carrier will also be nice.
Ensure that there are no leashes lying around the carrier and that the collar fits properly to prevent the possibility of strangling.
Count the Cost
You will be required to make a separate reservation for your dog and the fee charged vary for each airline and whether your dog will be in the cabin or in the cargo section. Be sure to ascertain what it will cost you to travel with your dog
Get a Health Certificate
You will need to visit your vet to examine your dog to ascertain his health and fitness for travel and issued a health certificate. This is a standard requirement for pet travel and airlines differ on the amount of details needed. Be sure to confirm what your airline's demands are. If traveling to a country different from yours, find out what the health authorities require in terms of vaccinations and other health needs.
Make Your Dog Comfortable
When traveling, don't stuff your dog up on food and water. Let her fast for at least 6 hours before the trip. She can eat a little bit more than usual a day before. Feeding just before the trip can make her have motion sickness. And feeding her while driving, is also not advisable. Feed her when there is a break and also take her for a walk or some play. During the trip, let her have enough water to keep hydrated but not full.
When driving, don't leave your dog in a parked car for any reason, even when the windows are down. The temperature in a parked car can rise fast in matter of minutes.
When it comes to dogs, airlines are quite concerned about weather conditions; you will therefore need to check for their policy on this when making reservations. Additionally, the temperature in the plane and cargo hold are not controlled while the plane is on the tarmac and before take-off and it can get pretty hot if there is a slight delay. Better still; schedule your flights for late night when the weather is cooler to be sure of your dog's comfort.
When traveling with your dog, it's better to take a direct route in order to avoid the need to change planes especially if your dog will be checked in as excess baggage. This is to prevent her from being mishandled by careless baggage handlers or delayed from being transferred to the connecting flight.
Plan an Early Check-In
Because of extra security checks, getting to the airport earlier for your check-in is advisable.
Enjoy your Trip!