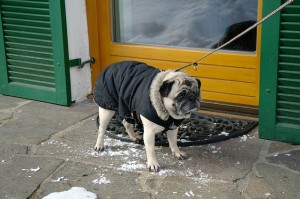 When it comes to safety during your dog walks, the same safety measures apply irrespective of whether you live in a quiet neighborhood or a busy city street. Being safety conscious by taking necessary precautions isn't something that you can afford to take for granted because it puts you in a better position in the event that the unexpected happens.
Plan beforehand: Know exactly where you are going and what you would do on the way. If, for example, you would need to make a stop-over or go shopping somewhere, be sure to find out if pets are allowed at the location or not. This would also determine whether you'd want to have your dog on a short or a long leash.
If it's not your usual route, you may need to make extra preparations such as getting a doggie boot for rough or snowy terrain or insect repellants for bushy trails.
Note: Let your vet recommend an appropriate insect repellant for your dog as the one you use may harm her.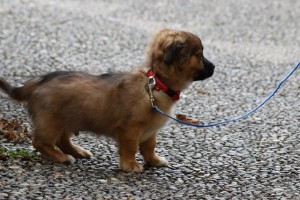 Make your dog comfortable: It's unlikely you'd wear tight footwear or uncomfortable clothes, so shouldn't your dog. Ensure her collar fits properly and that the leash is in good condition.
Go with enough water: Ensure that you have enough water to keep you and your dog properly hydrated while you're out.
No grazing: To prevent poisoning, don't allow your dog eat or nibble at plants along the way
Have your id: It's advisable that you are with valid identification tags for both you and your dog before setting off.
Pay Close attention: Keep a close eye on your dog during walks. Don't let her loose and always let her approach others on a leash.
Go with Piddle pads: Part of your responsibility as a dog walker is that you should be ready to scoop up after your pet. The quantity would depend on the duration of your walk.
Evening Walks: For evening walks wear reflective vests for both you and your dog. Use reflective collars and leashes that reflect from both sides. Better still, LED gear is recommended as they provide protection even under the darkest conditions.
You shouldn't forget to carry a flashlight for illumination. This not only makes it easy for you to find your way, it prevents you or your dog from stepping on unwanted objects in the dark.
Train your dog to obey cues: You don't want your dog jumping on people or lagging behind when you want her to move. You will therefore need to teach her to obey simple cues like "sit" or "let's go".
During winter: Keep your dog away from metal to avoid the possibility of electrocution or having her tongue stuck.
Avoid snowdrifts as well as icy pathways to prevent slips or falls and don't allow your dog eat snow so she doesn't swallow sharp or other harmful objects in the process.